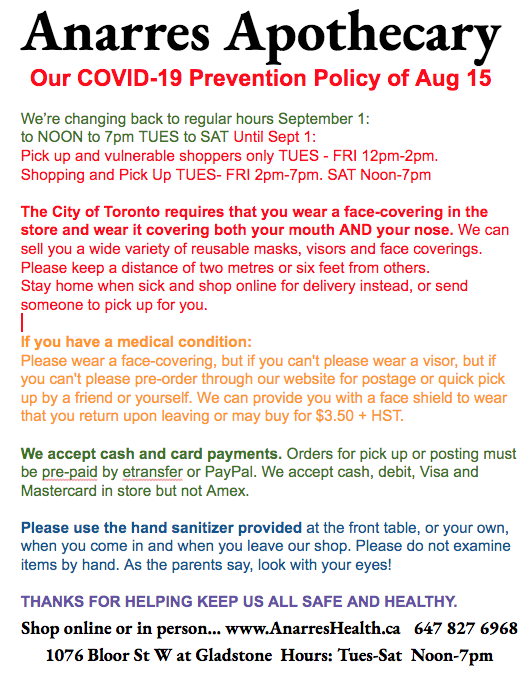 Anarres Apothecary
Our COVID-19 Prevention Policy of Aug 15
We're changing back to regular hours September 1:
to NOON to 7pm TUES to SAT Until Sept 1:
Pick up and vulnerable shoppers only TUES - FRI 12pm-2pm.
Shopping and Pick Up TUES- FRI 2pm-7pm. SAT Noon-7pm
The City of Toronto requires that you wear a face-covering in the store and wear it covering both your mouth AND your nose. We can sell you a wide variety of reusable masks, visors and face coverings.
Please keep a distance of two metres or six feet from others.
Stay home when sick and shop online for delivery instead, or send someone to pick up for you.
If you have a medical condition:
Please wear face-covering, but if you can't please wear a visor, but if you can't please pre-order through our website for postage or quick pickup by a friend or yourself. We can provide you with a face shield to wear that you return upon leaving or may buy for $3.50 + HST.
We accept cash and card payments. Orders for pick up or posting must be pre-paid by transfer or PayPal. We accept cash, debit, Visa and Mastercard in store but not Amex.
Please use the hand sanitizer provided at the front table, or your own, when you come in and when you leave our shop. Please do not examine items by hand. As the parents say, look with your eyes!
THANKS FOR HELPING KEEP US ALL SAFE AND HEALTHY.
Shop online or in-person… www.AnarresHealth.ca 647 827 6968
1076 Bloor St W at Gladstone Hours: Tues-Sat Noon-7pm