Workshop: Cannabis Medicine Making - DATE TBD - waitlist available
WHAT: Workshop: Cannabis Medicine Making
WHEN: a Sunday Autumn 2021 DATE TBD - waitlist available, 10 am to 4 pm
WHERE: Anarres Apothecary, 1076 Bloor St West Toronto M6H1M6, north side
1.5 blocks EAST of Dufferin subway.
COST Materials fee: $50 due to the instructor at the workshop, plus
Register below. Includes vegan, halal, kosher and gluten-free lunch
$225 + HST Regular
$200 + HST Advance Discount registration (1 week in advance pre-paid)
$175 2-for Discount per workshop when you register for both workshops or register with a friend ($350 + HST).
If you are registering yourself and a friend for this workshop, please include your friend's name and contact info in the comments with your order.
If you don't include your friend's name and contact info in the comments with your order, you'll also be registering for the Intro to Cannabis How To Grow Your 4 Plants Workshop here http://www.anarreshealth.ca/workshop/workshop-cannabis-intro-and-how-gro...
Find out how we are keeping all of us safe and comfortable at workshops
http://www.anarreshealth.ca/blog/special-covid-19-precautions-workshops-0
This full-day workshop will teach you several different methods to make medicine from cannabis. With the legalization of cannabis, many people are turning to this healing plant for its wide range of therapeutic properties. We will focus on demonstrating how you can unlock the healing potential of this plant and make a number of different medicines at home, in your own kitchen. This workshop is very 'hand-on', giving you direct experience making many different medicines.
Together we will make:
Cannabis-infused butter for use in edibles
Cannabis Coconut oil for internal and external use
Infused oil - that can be used topically for pain and inflammation.
A couple of different cannabis salves
Tinctures – We will go over a couple of different extraction methods and talk about using fresh/live vs. dried plant material.
We will talk about:
Various extraction methods that work well for cannabis. And some advanced methods.
Which cultivars to use for CBD and/or THC
The decarboxylation process
How to make 'whole plant' medicine
Terpenes
And much more…..
The best medicine is the medicine you make yourself. There is no need to pay high prices for manufactured cannabis products when you make your own at home in your kitchen or apothecary. Using our herbal medicine making skills we can create powerful and effective medicines, which can be used to help others who are in need of the healing qualities that this plant has to offer. Come and learn with us and take your cannabis medicine making skills to the next level.
Pouring Oil:

Meet your OrganiGrow Instructor Amanda Almeida:
Anarres' CBD and Pain Relief Consultant, Cannabis Production at OrganiGrow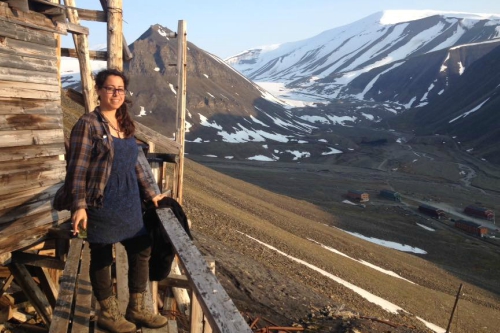 My passion is wildcrafting! I love foraging herbs, flowers, and mushrooms; making my own tinctures, infusions, recipes, field guides, and herbal zines. Natural healing is the only way for us to survive an unstable future, and I and my friends have for years been dedicated to learning skills for survival on our planet in the shadows of the cities, in fields, deserts, and forests. For almost ten years, I have been completely nomadic; squatting, dumpster diving, playing street music in travelling bands all over the world, and re-wilding. In recent years I have spent time living at some of the Emerald Triangle's finest organic cannabis farms in the Redwoods of Northern California, learning about cultivation, processing, and medicinal uses of Cannabis.
Presented by OrganiGrow Canada
OrganiGrow Canada was founded alongside the new laws regulating the recreational and medicinal use of Cannabis in Canada. We are a small business that specializes in helping people grow their own cannabis as well as sharing the most up to date information and education. By learning to grow your own cannabis with us, you will begin to see and understand this ancient healing plant in a holistic way and the role it can play in your life and the lives of those around you.
We focus on sharing the most up to date research and science as it relates to cannabis as well as our many years of experience growing and working with medicinal herbs. We will guide you through the growing process so that you can gain hands-on experience that will last a lifetime. When you learn to grow your own plants, you have the ability to work with the elements to nurture them at each stage of growth. And in the end, you know exactly what went into each plant and can be sure that they are not full of toxic chemicals. You also get to revel in the pride and fulfillment that comes from each successful harvest.
We are here to support anyone who has an interest in learning more about the Cannabis plant. Whether you are a medical patient, personal user, interested in growing and making your own medicine, looking for consultation or just have an interest in learning more about this plant. Through our training and programs, we will not only guide you but support and offer tips and tricks in order to successfully grow and harvest your own flowers. Our focus is on using organic methods that do not rely on chemical fertilizers, pesticides, insecticides, etc. These additives have no place in your medicine, therefore they have no place in your plants and soil.
At OrganiGrow Canada, we believe in growing plants organically, in a way that supports the resilience and vitality of natural systems. We always say, that 'the best medicine, is the medicine that you grow and harvest and make yourself'. Come and grow with us so that you can learn these skills that will provide for you, your family and your community long into the future.
Date:
2020/09/20 -

10:00am

-

4:00pm