Aprons and oven mittens are handmade in Uganda with local Kitenge fabrics by women with disabilities in a workshop in Kampala. This apron and over mitt set will bring colour to your kitchen while protecting you while cooking. The set also makes a perfect gift!
The apron has a handy pocket in front and the length is adjustable - thus one size fits all! In the oven mittens, a special lining is added to insulate the heat. However, as the mittens are made of cotton fabric they are not suitable for handling extremely hot pots.
Materials: Cotton, polyurethane foam.
The fabrics may bleed. Wash separately at 30°C.
Each product is handmade, often by women who lack basic numerical skills and cannot use a tape measure. However, they put all their love and care into each product. We hope that you find the tiny variations in size, pattern, and colours as part of the charm of the product!
Made by the women of the Kampala Disabled Initiative, a group of physically handicapped women with great skills in tailoring and crafts making in the capital Kampala. The women regularly take in new handicapped girls as trainees to teach them sewing skills. Many of the products are developed in cooperation with Estonian fashion designers and volunteers.
Olivia is the founder and head of the Kampala Disabled Initiatives. Like many other women, she was paralyzed as a child from polio. She likes sewing yoga mat bags and weekender bags. Her joy is also teaching tailoring to young trainees.
"I enjoy working in KDI. This experience has taught me a lot about responsibility and cooperation. Through sewing I'm able to support my small daughter and offer her a better future."
— Olivia
"My dream is to finish my house and see that my children are well-educated. Due to HIV/AIDS I know that I'm not able to support them for long."
— Maria
"I cannot get a job in an office. A huge part of a village woman's life is to dig in the garden, but I also cannot do that. I'm now learning tailoring as these skills can provide income. I'm particularly happy if people like the things we do as far as Canada!"
— Jennifer
"Mamaa" means "Fair/Equal"
The word "mamaa" means "fair/equal" in the local Napti language of Nabdam District in Northern Ghana where our shea producers and basket weavers live. The logo of Mamaa is inspired by Ghanaian Adinkra symbol "Fawohodie" which stands for "independence, freedom and emancipation". We believe in fair trade and direct links with our trading partners.
We market products from women's cooperatives in Africa and Asia to support entrepreneurial women around the world and give them a better income. At the same time we offer our Canadian customers unique and quality products that bring about positive change.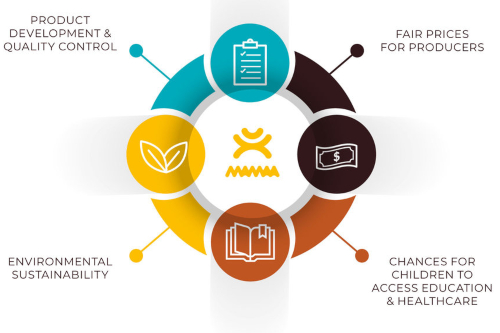 Mamaa Trade was founded in 2018 by Johanna Helin who has years of experience in development work in international organizations and NGOs. The aim of Mamaa Trade is to market sustainable and quality products from women's cooperatives that Johanna has previously worked with. A big part of our work is to support women to develop their businesses, to improve and check the quality of their products and to ensure that the production methods are environmentally sustainable.
We believe that ethical trading is a sustainable way to secure poor women fair incomes through their work, better opportunities to care for their families and more say in the family and community. We offer the consumers the knowledge that the products they consume are socially and ecologically sustainable and make a difference in the lives of the producers. We guarantee that the prices we pay to the producers are counted in a way that they cover all the expenses of the production and offer at least the local minimum salary for the working hours. In addition, 15% of the profit (after taxes) is directed back to the communities.