NEW!!! PLEASE NOTE THAT ALL APPRENTICES, WORK EXCHANGERS AND WOOFER/VOLUNTEERS MUST WEAR AN N95 MASK PROVIDED We all do.
WANTED NOW: People who want to Apprentice or exchange work for workshops! Interns welcome.
LOOKING FOR VOLUNTEERS / WORK EXCHANGERS / APPRENTICES
Do you want to get out of the house and help out in a zero-waste aromatherapy shop? Very COVID safe environment with MASKED AND DISTANCED contact limited to 2 others and possibly a few shoppers a day.
1. WORK EXCHANGE - 4 - 8 hour shifts.
2. APPRENTICESHIPS - Apprentices will take a 4 HOUR SHIFT EVERY WEEK, or an 8-hour shift every second week.
Earn your Aromatherapy Certification tuition-FREE by committing 4 hours per week in the store. You'll start by cleaning and packaging natural ingredients (we all do this) and learn by doing, listening in and later joining in on serving customers and creating custom orders. You'll sign up for workshops FREE and help out by setting up, helping out during the workshops, or clearing up afterwards.
To apply for the Aromatherapy Certification Program, Apprenticeship, WWOOFing or Internship, please read this page and follow the instructions at the bottom of the page.
I, Tracey TieF, offer a unique style of hands-on learning that blends scientific with traditional healing expertise. My students call me a mentor, "funny", "riveting" and "unforgettable".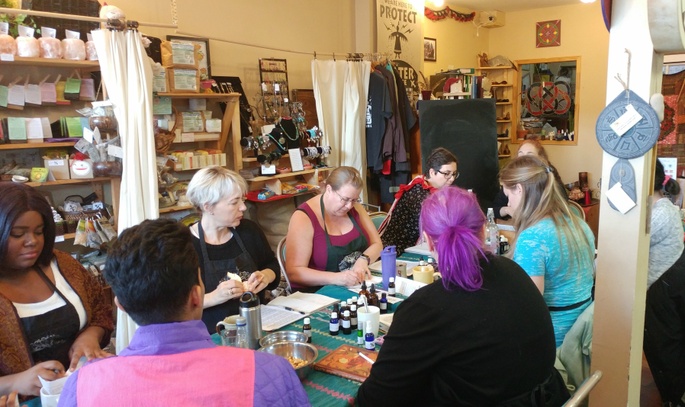 Current ongoing learning opportunities:
APPRENTICESHIP:
Want to learn how to make all sorts of lotions, potions and creams at a professional level?
Want to make a career or living from making and selling natural handmade local and fairly traded body care products?
If you are motivated and want a hands-on, personalized education, let's talk. BUT READ THIS ENTIRE PAGE FIRST.
Apprenticeship:
~ Is a contract with me for at least 1 year.
~ Includes participation and certificates in all introductory and professional level workshops, which are offered several times per month year-round. Value up to $1000 plus HST/month
~ Includes custom one-to-one product development sessions as needed. Value $240 plus HST per month
~ Includes an apothecary style business experience, where you learn about sales, inventory, customizing, tincturing, stocking, labelling, packaging, research, ordering, cash-flow etc by working in the store and kitchen/lab.
- Starts with mundane tasks like opening & closing routines, then filling bottles and orders, in which you learn botanical names and develop a steady hand.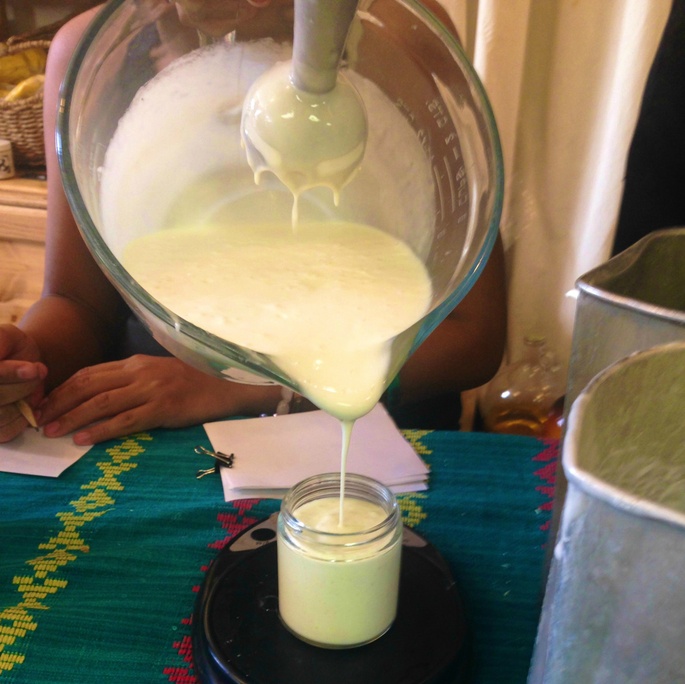 WHAT I OFFER YOU AS AN APPRENTICE
As an Apprentice, you pay no tuition or materials fees.
~ I offer you pre-registered spots in all of the workshops I teach at Anarres and elsewhere, at no cost to you.
~ I offer you the opportunity to host and therefore attend workshops held here, but instructed by others. You must apply for this opportunity and I will select among interested apprentices.
~ You will receive certificates for workshops and modules completed, ultimately leading to Aromatherapy Certification through Preventative Health Services Group, where you will qualify for insurance as a practitioner anywhere in Canada.
~ I will give you written and/or verbal references that are honest, thorough, appropriate, and quite likely enthusiastic, as you need them, until the day I die.
~ I will mentor you and help you achieve your socially responsible dreams and goals to the best of my ability.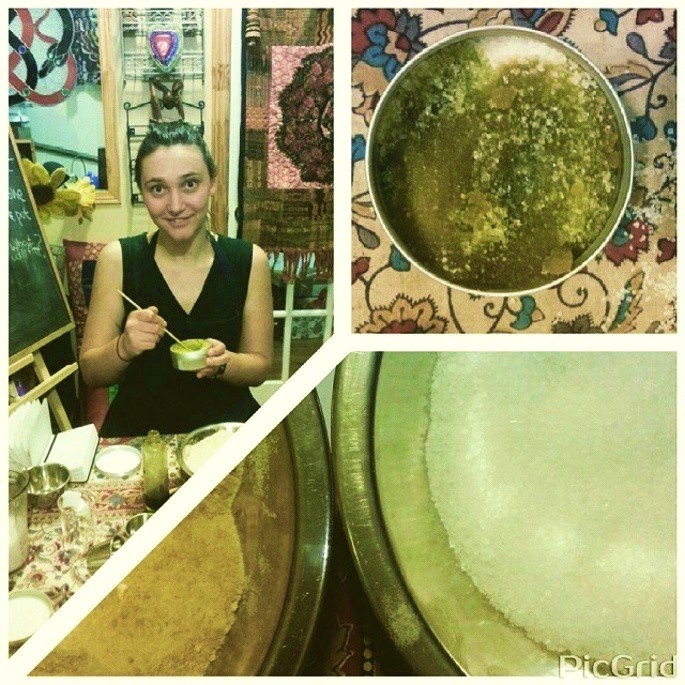 WHAT I REQUIRE OF YOU AS AN APPRENTICE
~ I require that you commit to a scheduled weekly shift of at least 4 hours that meets the store's needs. The schedule can change because life does but must be negotiated with notice just like a paying job.
~ I require that you learn routines and procedures to ensure the seamless co-management of a busy shop with walk-in and mail-order customers. You need to be able to complete routines you've been shown without my prompting you. For instance, I don't want to micromanage sharpening pencils, filling the water dispenser, emptying the dishwasher, and putting the clean mugs on the hooks.
~ I require that you pre-register for workshops, commit to helping out before, or during, or after, participate fully, and cancel with notice if you can't attend a workshop you have registered for. Not showing up is grounds for immediate termination of your Apprenticeship, as is not helping out cheerfully. Showing up without pre-registering is grounds for being asked to leave the workshop.
~ I require that you be reliable and dependable: show up on time, call in sick, etc just like a paying job.
If you quit with two week's notice, we will discuss which future workshops you have earned already. If you quit without notice (except in the case of sudden major crisis), or you ghost, you forfeit free attendance at any future workshops. Quitting without notice is uncool and inconsiderate. You will not receive a positive reference.
~ I require that you take responsibility for mistakes, making right whenever possible, caring about the productivity and viability of our operations. Whatever you do is worth doing well, or you waste your own time, and ours collectively. I require that you build your skills in accuracy, research, customer service, packaging etc.
~ I require that you share in mundane, even unpleasant tasks such as cleaning, stocking, moving boxes etc. You cannot be "too good" for these tasks. There is no maid, house-elf or underling. But we will all do these tasks, not just you!
This is crucial. Apprenticeships succeed and fail on this point. Two Apprentices have quit on their first shift over a task they considered beneath them, although I am transparent about requiring mundane tasks. In one case, a person quit mid shift after being asked to sweep. Recently, an Apprentice was shown how to pack incense and said "This is bullsh*t!"
You will begin your Apprenticeship learning and carrying out:
* The Opening or Closing Routine of Anarres
* Locating ingredients and packaging
* Pouring oils and essential oils safely and accurately
* Weighing and packaging ingredients safely and accurately
* Restoring packaging for reuse aka expert dishwashing
* How to set up for and clean up after a workshop
* Keeping a record of your shift activities and workshop attendance.
Your Apprentice shift is not intended to be a private lesson or entertainment. You are learning how we operate an apothecary by doing. We make products, but in order to do so we must do dishes, clean spaces, fill containers, pour essential oils and carrier oils and generally serve customers. As a Junior Apprentice you will not be serving customers on the shop floor, and you will not be restocking retail products. We will ask you to restock containers and ingredients, and to pack these as required for customers as needed. Everything you do will be related to operating a botanical business, and everything you do will be something we do, too, including me, the owner and teacher.
~ I require that you serve and respect members of our Anarres community as Kindred Spirits, including people with (dis)abilities, LGBTQA+ people, women wearing whatever they want including shorts or veils, people with little money to spend, or people in distress. We work together continuously to make Anarres more accessible to all.
~ You observe the Prime Directives of Anarres:
A. DO IT MY WAY, TO BEGIN WITH.
B. FINISH WHAT YOU START OR PASS THE WORK ALONG TO SOMEONE WHO CAN AND WILL.
C. LEAVE THE SPACE TIDIER, CLEANER AND BETTER ORGANIZED THAN YOU FOUND IT.
*In-store days are Tuesday, Wednesday, Thursday, Friday or Saturday from Noon to 7:30 pm with two 15 minute and one 30 minute self-regulated breaks per 8-hour shift. Apprentices typically work a Noon to 4pm or a 3:30 to 7:30 pm shift in which you can take a 15-minute break at a good time.
* Apprentices take care of an area of speciality within the shop for a period of 3 months before rotating to another area. Examples of areas include: packaging, bulk ingredients, herbs, perfumes, essential oil blends - and even sexual health. The area is negotiated based on Anarres' needs and the Apprentices' interests.
WOOFERS: We do not have accommodations for WWOOFers at this time.
I consider Apprenticeships as learning partnerships that are mutually beneficial. As an Apprentice, I expect you to be keen to learn, reliable, and serious about carrying on this work. You can expect from me a comprehensive education in the natural, ethical, traditional medicine that I practice, attention to your learning goals, and investment in your skills and product/business development.
As of March 1, 2022, all Apprenticeships begin with a 4 week Work Exchange period before we meet to discuss if it's to our mutual benefit that you enter the Apprenticeship. During this 4-week period, your Workshop Hours must not exceed 50% of the Work Exchange Hours you've done.
Can men apply, too?
Yes, but men rarely complete the application process, and when they have, many have refused to do mundane tasks such as cleaning as required. Most males who have been interested have wanted a private tour and interview prior to applying. I have found over 15 years that this is not a good use of my time. I have had two much appreciated male Apprentices, and one male successfully completed an herb focussed Internship. I encourage you to prove yourself an exceptional (male) Apprentice! Trans- and cis- men are welcome to apply.
Can I apply as an Ontario Works or Ontario Disability Support client and receive a letter from Anarres?
Yes, you may, but I have have had both positive and negative experiences with this request. We have had successful Apprentices from OW and ODSP programs. We have also been taken advantage of. In order to maintain the trustworthiness and integrity of Anarres Natural Health as a host, please note:
* I will be 100% accurate and truthful in any correspondence or contact with OW, ODSP or Revenue Canada.
* I require the complete contact information of the case worker. I do not write "To Whom It May Concern" or open ended letters.
* If OW or ODSP has provided the funds for books, application, and academic fees, then these are not directly refundable to the client. We will require direct communication with OW or ODSP to refund, exchange or credit books.
* The Application ($10) and Academic fee ($60) are not refundable.
Volunteers under OW, ODSP or high school Community Service will receive documentation or confirmation of hours only AFTER the hours are performed.
WORK Exchange:
WORK EXCHANGE OFFER
Want to learn how to make all sorts of lotions, potions and creams?
Enjoy natural handmade local and fairly traded body care products?
If you have time rather than money, let's talk.
Join my CONNECT WITH ME LIST AND FACEBOOK GROUP to find out about these opportunities as they arise:
STORE and EVENTS: When you help me in the store, I'll give you a Time-Sharing Card reflecting the hours you've contributed. You can exchange:
~ 2 hours on your Time-Sharing Card per 1 hour of Workshop
(or 1-hour professional-level cleaning, needful carpentry or other skilled tasks in exchange for 1 hour of workshop time. This must be negotiated ahead of time)
~ 1 hour on your Time-Sharing Card towards an hour's rental of any Anarres space.
PRODUCT MAKING: When you help me make products, you'll learn for free and get amazing products to take home.
Work Exchange isn't for everyone. You must be able to commit to a date and time. You must be clean and attentive, do what you agree to do skillfully, ask for clarifications and follow instructions.
I generally can accommodate one-off casual Work Exchange if you are good at cleaning, organizing, folding brochures, writing labels or packing supplies using a scale.
I consider Work Exchanges as learning partnerships that are mutually beneficial. As a Work Exchanger, I expect you to be keen to learn, reliable, and serious about doing effective work. You can expect from me lively discussion and as much learning as we can fit into our time together. Booking Work Exchange is solely at my discretion based on the fit of our goals and habits, and your performance and reliability.
Workshops at Anarres included in Apprenticeships, and eligible for work Exchange credits are:
~ PROFESSIONAL SERIES I offer 5 to 10 days intensive "learn to make everything" programs that are private, small class, or in groups of 10-20 a few times per year. Programs are generally offered at Anarres, but I will travel.
~ FULL DAY and TWO DAY focused product making workshops scheduled monthly.
~ ONE, TWO AND THREE HOUR INTRO workshops scheduled weekly on Fridays (7-9 pm) and some Tuesdays evenings.
See current workshop offerings and events on the LEFT-hand side of this website.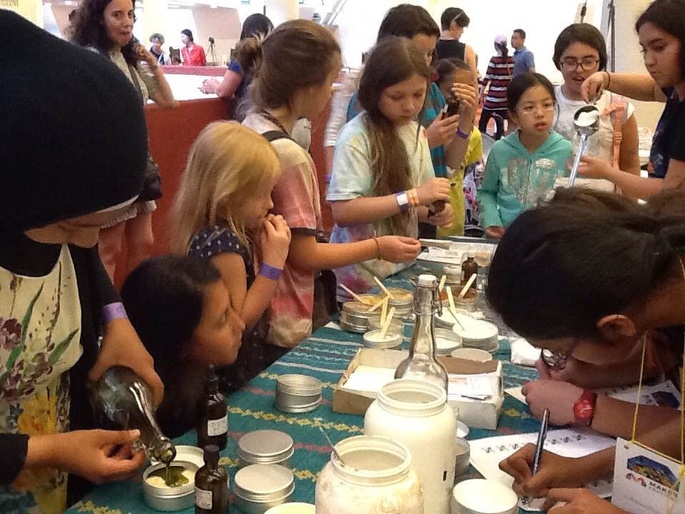 Apprentices and Work Exchangers can help outside of Anarres Apothecary, too. I have given workshops all over the Greater Toronto Area to participants of all ages, genders and interests including:
~ Karma Food Coop
~ Grassroots environmental stores (regular instructor)
~ Gilda's Club
~ OISE (Ontario Institute for Studies in Education)
~ OISE Sustainability Education Conference and Eco Fairs
~ BIG on Bloor Festivals
~ ECO Savvy Festival
~ SAGE Fair
~ women's centres and informal groups and parties
~ New Directions Aromatics (regular instructor 2009-14)
~ lunch and learn events at workplaces such a law firms, ad firms and daycares
~ health and eco fairs at workplaces such as Loyalty One
Some DIY Hands-On Workshops I offer are:
African Aromatherapy & Black History Lab
Anti Ageing Lab
Creating Your Natural Cosmetic Business
Facial Skin Care
Green Cleaning: DIY Natural Cleaning Party!
Green Packaging Lab
Green Your Small Business
Learn a Reflexology Foot Massage
Learn a Relaxing Eastern Medicine Massage
Learn to Massage Your Baby
Lotion Base Lab (cleansers, hair conditioners, plus other concoctions)
Lotions, Potions & Creams i: Introductory
Lotions, Potions & Creams II: Advanced
Luscious Healing Lip Balms!
Make Custom Shampoos and Conditioners
Make Face Masks for Yourself and Friends
Make Sunscreening Lotions, Potions and Creams
Make Your Own Natural Hand Sanitizer
Make Your Own Healing and Sensual Oils and Ointments
Mamalicious! Fun to Make, Safe Recipes for Mother and Baby
Mineral Make Up Lab
Natural Hair Care
Natural Hand Sanitizer
Non-Toxic Baby, Mother and Child Care
Non Toxic Living for Women
Non-Toxic Living
Salts, Scrubs, Oils and Masks
Shaving! Fun to Make, Safe Recipes
Soap Making: Make Your Own Organic Glycerine Soaps
Stop Bug Bites Non-Toxically
The Joy of Scent: The Art and Science of Aromatherapy and Perfumery
The Love Lab: DIY Natural Lube and Mojo Massage Oils!
Tub Truffles: Making Bath Time Lots of Fun!
PARTICIPATORY INFORMATION WORKSHOPS and Talks are booked at stores, community centres and other locations:
How and Why to Green Your Small Business Workshop
Green Packaging Lab
Non-Toxic Living Workshop
Non-Toxic Woman Workshop
Mamalicious: Non-Toxic Baby, Mother and Child Care
Take Your Sex Life From Toxic To Terrific: Natural Contraception & Safe Toys
From time to time, Anarres Apothecary hosts OPEN HOUSES, FILMS AND DISCUSSION EVENTS.
TESTIMONIALS FROM STUDENTS:
(translated from French) I am totally satisfied to have followed this very informative internship in Anarres Apothecary Natural Health where there is a great atmosphere. The course allowed me to learn a lot about running a business.
Tracey is an extraordinary businesswoman with a sense of sharing, gifted in business, she gives of herself to succeed in her work. Working with her brought me a lot in many ways, including absolute rigour, quality of work done and the ambition to create my own business in the future. I am truly grateful to my supervisor.
This apprenticeship was for 6 weeks in a totally English environment. It will be of considerable support for my career. It was a great experience both rewarding and memorable.
~ Alele BC, a 3rd-year student of Biological Engineering and Biotechnology, Polytech Marseilles, Aix Marseilles University, internship June-July 2016
Tracey,
I'm blessed to have met you and learned so much from you. I've equipped myself with many good products since we've met. thanks for everything. blessings
-Ian (hemp fan, WWOOFer, Peterborough, Ontario)
Start now. Apply!
HOW TO APPLY:
To apply for the Aromatherapy Certification Program, Apprenticeship, WWOOFing or Internship, please read the page above and follow the instructions below.
1. Apprenticeship or Work Exchange Complete an "Order" below paying the REFUNDABLE $10 Application Fee, not payable with hours or Workshopper Card. This fee compensates us for considering your application, correspondence and your invitation and attendance at an Anarres Tour if you choose to attend. If you ghost us when we follow up with you, we'll keep the $10. If you respond and we have at least one interview or tour, regardless of what we or you decide, you'll have the $10 as in-store credit.
WWOOFers, Coop Students and Interns Complete an "Order" below and select OTHER as payment so that you do not need to pay any amount to apply.
2. Send by email on the same day:
A. PHOTO a recent landscape headshot 4" x 6" photo,
B. SOCIAL MEDIA LINKS website, Facebook link, Instagram, Twitter etc.
C. A 1 paragraph bio that tells us your background and what you are looking forward to learning at Anarres Apothecary and why. For example, here are the bios of Anarres folks http://www.anarreshealth.ca/blog/who-anarres-apprentice-bios-0
C. ANSWER QUESTIONS Please give 1 paragraph answers to the following questions:
1. What do you want to learn most in your program?
2. What is your experience with herbalism? Aromatherapy? Natural/traditional healing?
3. What is your experience with customer service or a retail store?
4. What Gifts will you bring to your program? What challenges will you bring?
5. What days and shifts (11:30 am to 3:30 pm or 3:30 to 7:30 pm) or other time slots can you commit to at this time? (We can negotiate if things change.)
PLEASE EMAIL THE APPLICATION THINGS I ASK FOR ON THE SAME DAY! Only complete applications will receive a response and invitation. Please do not telephone, email or text me about the info I have given below, and kindly follow the instructions.
ONCE I RECEIVE YOUR ORDER and Application email, I will contact you to book you for a tour of Anarres Apothecary, mutual interview and Orientation session (@2 hours).