Toothbrush: Bamboo Tooth Brush 99% Biodegradable Adult Sized, Unboxed
Choose your bristle type from:
White (each toothbrush is packaged in plastic)
OR
Bamboo (each toothbrush is packaged in plastic)
OR
Rainbow Colours (each toothbrush is packaged in plastic)
OR
Charcoal (each toothbrush is in a cardboard box, and they also come in a box of 4)
Adult-sized length: 17.4cm
A durable toothbrush with soft bristles
made from bamboo, a renewable compostable grass
with white, bamboo, rainbow coloured or charcoal nylon bristles.
Each member of the household can have a different bristle colour!
The charcoal bristles are believed to help whiten the teeth.
This toothbrush is:
* 100% biodegradable body. The nylon-6 bristles are not readily biodegradable.
(ALL toothbrushes have Nylon-6 bristles unless stated otherwise.)
* Free of packaging except for the sad but required plastic wrapper or cardboard box
(Toothbrushes cannot be sold entirely unwrapped for hygiene reasons.)
* Vegan
* Handle is made of bamboo grass, not trees!
* Good for You; Good for the Earth
Why does it matter that I use bamboo instead of a polluting toothbrush?
Toothbrushes you might through out in your lifetime = 320
...by Canadians = 11,612,800,000
% of Earth's surface covered in plastic = 25%
% of plastic that has EVER biodegraded = 0%
% of life of earth impacted by plastic waste = 100%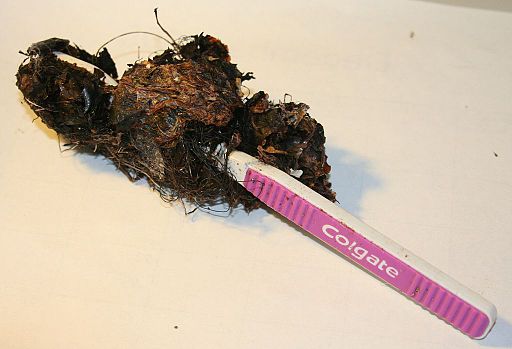 Photo Sabine's Sunbird thanks to Duncan Wright. [Public domain], via Wikimedia Commons
This is what a Hawaiian albatross spit up, including monofilament fishing line from fishing nets and a discarded toothbrush. Ingestion of plastic flotsam is an increasing hazard for albatrosses. Photo by Sabine's Sunbird (Duncan Wright). [Public domain], via Wikimedia Commons
Why are you bringing in no name bamboo toothbrushes?
We have carried bamboo toothbrushes for years, but the branded tooth brushes we have carried have several problems I wanted to solve.
* Out of stock from the distributor when we need them
* More expensive than good quality polluting tooth brushes
I don't want people to not be able to afford to be good stewards of the Earth,
so selling the most affordable bamboo toothbrush is important to me.
Why use bamboo to make tooth brushes?
Bamboo is:
* A grass - the fastest growing plant on earth!
* Contains naturally-occurring antimicrobial agents
* Grown without fertilizers or pesticides
How do I care for my bamboo tooth brush?
Your Anarres bamboo toothbrush will last as long as your ex-plastic toothbrushes! Change to a new bamboo tooth brush every 3-8 months or when bristles are worn.
Your Anarres bamboo toothbrush is just as hygienic as a plastic toothbrush, or more so! Bamboo is generally less porous than plastic and resists growing germs.
* Let your brush air dry between uses.
* Soak for a minute in vinegar, peroxide or salty water to sanitize.
What do I do with my toothbrush once it's worn out?
Your tooth brush should last 3 months, or even 8 months according to some bamboo brushers who tested them! But eventually, you'll need to move your tooth brush on. Here's how to give your bamboo toothbrush an ethical afterlife:
Retire your toothbrush to:
* Your compost Returns to the soil in 6 months. (Nylon 6, 10 bristles decompose within 15 years. Keep in mind most plastics are thought to decompose in 500-15,000 years!)
* Your kitchen to clean dishes and hard to reach grooves
* Your bathroom cabinet for cleaning, or as an applicator for hair colour, or eyebrow brush
* Your tool box for applying glues and cleaning
* Your craft cabinet Make a picture frame, use as a paint or glue brush.
*Your garden or houseplants as a stake that you can write on in pencil
What is the bamboo tooth brush actually made of?
* 100% mao bamboo head and handle
* Nylon bristles, sometimes impregnated with bamboo or bamboo charcoal
The natural bamboo handle is heat treated and polished smooth. The bamboo surface is heat treated by carbonization, giving it a quality finish and long life. The carbonization finishing process provides water resistance, cracking and prevents the growth of microbes (bacteria and moulds) during normal use. The colour of the handle may be a little different from each batch due to the degree of carbonization.
Does Nylon-6 biodegrade in real life?
We care about what happens to those nylon bristles. The good news so far is that nylon-6 has been shown to biodegrade in soil and in water, but VERRRY SLOWLY. Bamboo returns to the soil in 6 months, while Nylon-6-10 bristles decompose within 15 years. Keep in mind most plastics are thought to decompose in 500-15,000 years!
DON'T throw your toothbrush DOWN THE SINK OR in the ocean, but FYI...
http://www.sciencedirect.com/science/article/pii/S0141391013001420