About Anarres
Anarres Apothecary is a social enterprise storefront, online and mail-order resource founded in 2007 for you when you want body care, DIY supplies and housewares that are Good For You and Good For The Earth.
Operated by Apprentices, Aromatherapy Certification students and volunteers under the direction of Tracey TieF, Certified Natural Health Practitioner, we offer handmade natural cosmetics, aromatherapy and cosmetic making supplies including organic ingredients, 500+ ethically sourced essential oils, and dozens of clays, oils, micas, packaging and housewares that are alternatives to plastics, and other Earth and people-friendly goodies.
Anarres Natural Health's mission is to educate people about natural healthy fairly traded and local botanical ingredients, and how to use these to create affordable, wholesome and effective body care. To this end we offer mini, intro and full-day workshops, Aromatherapy Certification and Apprenticeship, we retail and wholesale healthy, ethical ingredients and products online and in our Anarres Apothecary. Wholistic health to us does not mean merely the health of our individual minds, bodies and spirits, but also the health of the Earth and all its Beings.
ANARRES NATURAL HEALTH OFFERS:
Talks, workshops and home parties focussed on healthy non-toxic body care or natural contraception.
Apprenticeships, Professional and Everyday People Training and Workshops creating ethical, healthy body care products and businesses. https://www.anarreshealth.ca/content/learning
BY APPOINTMENT: Consultation: body care product development, environmentally and human rights friendly packaging, and non-toxic living. In addition to private clients, Tracey TieF has developed products for professional salons, as well as Raindance Cosmetics, Purelygreat Natural Handcrafted Products and Consonant Skincare.
WE MAKE AND OFFER products by mail order and local pick up at Anarres Apothecary, 1076 Bloor Street West, Toronto ON M6H1M6.
Aromatherapy Supplies and Products Specializing in ethically sourced, social enterprise and artisanal distillations at the best prices. We care about traditions, education, safety AND science. Tell us what you are interested in and we'll invite you to smell any number of essential oils, hydrosol, resinoids and absolutes from our curated collection of over 500 essential oils, dispensed just for you! We also offer dozens of carrier and enriching oils, plus 5 dozen original essential oil blends and all-natural perfumes! In 2019, we won Gold in the Toronto Star's Reader's Choice Awards for aromatherapy!
Body and Skin Care Products that we make by hand in small batches from wholesome, local and fairly traded botanical ingredients. Environmentally friendly glass and metal packaging are refillable and refundable.
Stefani Water Crocks and parts: handmade terracotta crocks that dechlorinate, sterilize and purify water using ceramic micropore, colloidal silver and activated charcoal using a simple easy to assemble and maintain gravity design.
Contraception and Sexual Health Tools that are non-hormonal and do not disrupt hormones, made from medical grade silicone, ceramics, metal and glass. We are also SustainableSex.ca .
Zero Waste Alternatives To Plastics: packaging, food and housewares made from non-toxic, ethically sourced materials such as glass, metals, papers and clays.
Herbs and DIY Botanical Ingredients supplies for people who make healthy, ethical body care including hundreds of essential oils, butter, carrier oils, minerals, waxes and extracts - from salts to sodas.
Social Enterprise Products that support artisans and producers through #SheSellsSanctuary (felted goods and jewellery from Nepal) https://www.shesellssanctuaryhimalayanhandicrafts.com/new-page, #Zatoun (Olive oil, soap and seasoning from Palestine) https://zatoun.com/ , #Mamaa (sewn goods and baskets from Africa) https://www.mamaa.ca/our-story, #ChocoSol (cacao foods traditionally farmed by Maya in Oaxaca, Mexico) https://www.chocosolws.com/pages/our-story and #Karigaar Handicrafts (fairly traded copper ware from India) https://kaarigarhandicrafts.com/pages/our-story
Local Artisanal Wares Currently: Emerald Temple Living https://www.emeraldtempleliving.com/about, A*Pro*Pro https://apropro.ca/bath-bombs/, The Little Craft Drawer https://www.etsy.com/ca/shop/TheLittleCraftDrawer, Soulfire Sessions https://www.facebook.com/soulfiresessions/ and Goddess of Beauty
ANARRES NATURAL HEALTH APOTHECARY SUPPORTS
NIMKII AAZHIBIKONG
A language community for Anishinaabemowin language revitalization, land based practices, and the arts. https://nimkiiaazhibikong.com/ through the sale of double walled stainless steel bottles with artwork by #Isaac Murdock and #Christi Belcourt https://www.anarreshealth.ca/blog/revolution-heart-fundraiser-nimkii-aaz...
WE FUNDED A TREE NURSERY IN ETHIOPIA
Canadian Physicians for Aid and Relief www.cpar.ca.
WE HOST GRASSROOTS SOCIAL JUSTICE INITIATIVES
The storefront has supported and hosted educational and outreach initiatives including Boomerang Bags, Soap Sovereignty, SkillSeed Village, Make It Natural and Conscious Minds Collective (youth group).
WE ACTIVELY PROVIDE FREE EDUCATION IN THE COMMUNITY at street festivals (BIG On Bloor), MakerFest, Karma Food Coop, Dufferin Grove Farmer's Market... invite us to yours!
WE FUNDRAISE TO SUPPORT FREE AND SUBSIDIZED WORKSHOPS! When you say "keep the change", when you buy an item by donation, at our Sidewalk sales, or participate in a fundraiser, you contribute to our Co Immunity Fund. We provide shame-free subsidies to all of our intro workshops - automatically applied when the participant can pay less than the regular price of the workshop, no questions asked! We provide over $1000 in subsidies and free mini workshops every year!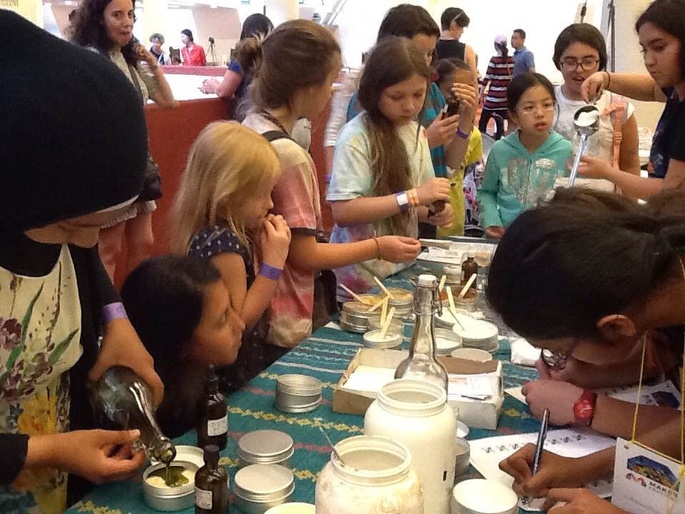 Tracey is a fountain of healthcare knowledge. I particularly reap the benefits of her extensive knowledge of essential oils which she supplies me with (and also carriers for them; from handmade deodorant to skin/hair care products). She carries an excellent full selection of organic oils and she ensures that they are ethically sourced & traded. Thank you, Tracey!
~ Deb Wiles, Director of Marks of Perception Art School, Toronto, Canada
HAPPILY HARDCORE: Anarres Mission, Values, and Ethical Principles in Action
I named Anarres Natural Health after the anarchist planet in Ursula K. LeGuin's novel The Dispossessed. Like the novel's Anarresti, I am contributing what I can to society through my work. Anarres strives to be as ethical and environmentally friendly as possible - and I take "possible" as a challenge. I am happily "hardcore".
100% Wind, Solar and Waste Powered The electricity used is 100% from wind power as WindShare members. The hot water and heating are from "green" gas collected from a landfill project near Montreal. Our household and Anarres use less than half of the natural gas and water that the average household uses due to our conservation efforts.
Local, Small and Ethical Suppliers I choose suppliers who are local, organic farming and small enterprises and who share Anarres' values. If goods are not available locally, I trade as fairly as possible, buying unbranded goods for instance from factory overruns where there is no fair trade option per se.

No Endangered Species Products I do not use ingredients such as rosewood essential oil, from un-sustainably harvested and endangered plants. I use Australian and Indonesian sandalwoods,instead of those from Mysore. I actively encourage my fellow manufacturers and practitioners to do the same.
I Reduce Reuse and Recycle in Innovative Ways My business model includes refillable and returnable glass and metal packaging, and maximum reuse of packaging and office materials. End-of-use items are recycled, or donated as craft supplies to daycare and ArtsJunktion. All envelopes are reused, including those used for mailing and banking. All parcels are packed using reused materials except for new paper packing tape. Even labels are 100% "post-consumer". I buy no new pens or markers, preferring pencils for most tasks.
All appliances are energy star rated, including washer-dehydrators and "solar" drying.
I Refuse Plastics and Keep Working at Locating Local Options My small triumphs include locating compostable vegetable cellulose bags made from waste tree pulp in North America, glass packaging made in North America, ethically manufactured stainless steel wares. When I discovered that my beeswax pellets were in reality made in China, I sought out a local organic beekeeper and learned to process the wax into formats suitable for candle and cosmetic making.
Packaging all products in glass, metal or compostable containers is fundamental to my work as a responsible aromatherapist. Your own containers are always refillable, and you will always receive a discount for refilling and/or bringing your own container. I encourage packaging consciousness and refilling by:
1. Revealing the cost of the packaging in person and online.
2. Providing discounts for refilling and refunds for returning clean packaging.
3. Selling items in bulk, packed in repurposed clean containers.
My business practices were featured on Beth Terry's Blog "Fake Plastic Fish":
Check out The Business of Green Part 3: Tracey TieF of Anarres Natural Health
http://www.fakeplasticfish.com/2008/03/business-of-green-part-3-tracey-t...
I participate in and support organizations in line with Anarres' values. I am a member of Karma Food Cooperative, Alterna Savings Credit Union, WindShare and SolarShare Cooperatives.
To leverage the privilege of the Canadian dollar, more than 10% of my earnings support organizations such as
* InterPares, working for change among equals https://interpares.ca/
* Tree planting and clean water through Canadian Physicians for Aid and Relief https://www.cpar.ca/Our-Programs/Working-in-Partnerships/Collaborators/A...
* and foster sisters, brothers and families through a variety of organizations including Save A Family and SOS Children's Villages Canada.
I BRING TO MY PRACTICE A BREADTH OF QUALIFICATIONS and EXPERIENCE.
I carry on a family tradition in the healing arts. My grandmother, a nurse, farmer and natural healer, treated diabetes and polio with therapeutic massage and holistic nutrition and was recognized as Canada's first physiotherapist. My mother was an internationally recognized health & sex educator and occupational health nurse. In my five years living in the inner city anarchist community, Kathedral B, I added the therapeutic use of herbs and vegan foods to my knowledge of folk and holistic medicine.
I have an extensive background in physical therapies and the healing arts.
I am recognized by the Canadian Examining Board of Health Care Practitioners as a Certified Natural Health Practitioner, Registered Aromatherapy Health Practitioner and Certified Reflexology Health Practitioner through The School of Holistic Studies, Institute of Aromatherapy, where I studied Lymphatic Drainage and Advanced Massage, Aromatherapy, Thai Reflexology and Foot Massage, Reflexology, Anatomy and Physiology, Basic and Advanced Aromatology (Phytotherapy), soap, shampoo, conditioner and cosmetic making, Massage Chair Bodywork, Business Studies, Orientation and Practicum, Thai Yoga Massage, First Aid, Basic and Advanced Aroma Cosmetology (Holistic Skin Care), Nutritional Symptomology / Clinical Nutrition, and supervised clinical experience with seniors at a nursing home, and at the SHS Student Clinic.
In summer 2016, I completed a Green Goddess Apprenticeship with Susun Weed in the Catskills, New York State, USA. I was initiated as a Green Witch.
In spring 2017, I completed Permaculture Design Certificate and Earth Activist Training with Starhawk and Charles Williams at The O.U.R. Ecovillage on Vancouver Island, British Columbia, Canada.
For 8 months in 2018 and again in 2021 I completed two Folk Herbalism and Plant Spirit Medicine Mentorships with Julie Gaia Feddes in the Carolinian Forest near Dundas, Ontario.

I am a member of the Preventative Health Services Group and fully insured.
I've received bodywork from Tracey many times and purchased several of her products. Her treatments have given me substantial relief from chronic low back pain, and her products are effective and healthy alternatives to others which are commercially available. She's knowledgeable in an incredibly wide range of topics relevant to health and healthy living. She's a person of remarkable integrity and compassion, qualities that come through in her clinical presence and overall business practices.
~ Chris Malec, RMT, Toronto, Canada www.spiralmassagetherapy.ca
I hold diplomas with highest honours from Stratford Career Institute in Fitness and Nutrition, Relaxation Therapy, and Natural Health Consulting. I am also certified by the India-based Institute of Holistic Health Sciences in Chakras and Integrated Healing.
Tracey is one of the wisest, most deep-hearted and brilliant, as well as wickedly charming and funny, gloriously knowledgeable, awesomely experienced and truly engaged (especially in so many struggles to help our world, our communities, and so many individuals) witches of world-saving, self-healing, natural beauty, home, and health potions, lotions, elixirs and other cool daily-use stuff ever!
~ Ira R, special needs educator, Toronto, in GigPark
I WAS A BURNT-OUT SOCIAL WORKER WHEN I DECIDED TO PURSUE MY CALLING.
I have 17 years of experience helping people in the social services with a Diploma in Lay Ministry from the University of Toronto, Wycliffe College, a Post-Graduate Certificate in Family Work from George Brown College and certificates in Certified Crisis Intervention and Prevention Trainer and Critical Incident Stress Debriefing. In addition, I trained as a Certified Joint Health and Safety Committee Member (parts 1 and 2) through The Worker's Health and Safety Centre, studied Small Group Work and Adult Education at the Saint Clare Centre, health promotion, food handling and STI prevention programs through the Toronto Department of Public Health and Community Kitchen and nutrition promotion programs at Food Share.
My experience as a dancer gives me a dynamic perspective on working with the body. I was first exposed to physical therapies as a bursary student in the Junior Professional Program of the Atlantic Ballet, an apprentice with Nova Dance Theatre, and while earning my Honours BFA at York University. I facilitate Dance Our Way Home, a spiritual, themed and improvised dance practice to stories and dynamic music, for women and children.
I continue to dance, to learn, and to wonder at the art and power of the human #body, #mind and #spirit.
#MadeInToronto #Toronto #ShopSmall #ShopLocal #SmallBusiness #Bloordale #Bloorcourt #BloorWest #Aromatherapy #ZeroWaste #ShopEthical #Fairtrade #Green