PRIVATE: Ladies Loving Life Soap Making Workshop
We HAVE 10 ladies interested in the Glycerin Soap Making: Gift Giving Theme, for Tuesday Dec 10, 2019 from 10 am-12 noon.
8 OF THE LADIES WILL BE BRINGING THEIR GUIDE DOGS.
I understand the price is $30 per person, with a nonrefundable deposit of $10 each. The group would prefer to pay the balance separately, by cash, on the day of the workshop.
Love to use or give those beautiful clear glycerine soaps with flowers, or toy spiders, or secret messages inside? The vast majority of melt and pour soaps have preservatives and sodium laurel sulphates in them, but Anarres serves up health in light amber coloured vegetable glycerine soap made with organically grown oils.
You'll learn how to melt, pour, set, cut and package 6 soaps hand made by you.
We'll experiment with adding goodies like natural clays for colour, butters such as cocoa and shea for skin benefits and flowers, messages or ornaments for fun. You'll come away with skills that can serve you for a lifetime for a fraction of the cost of an artisan soap addiction!
It was a wonderful workshop! Tracey was very friendly and knowledgeable. Would not hesitate to take another class, I learned a lot more than just soap making. Thanks for sharing Tracey!
~ Teresa, DIY Natural Health Toronto member on Meet Up
Join us for workshop announcements and discounts http://www.meetup.com/DIY-Natural-Health-Toronto/
I attended the Soap Making last night & had a fantastic time. Tracey is so knowledgeable & fun. I love the soaps we made... We all had lots of questions so we went into overtime. Anyway it was great. Tracey I love the ingredients & plan to buy some for myself & start making this product at home.
~ Sunday Harrison, garden facilitator and youth programmer, Toronto
By placing a workshop registration order, you agree that you understand our policies and agree to our terms. Please read below. Thanks and I look forward to seeing you soon! ~ Tracey Complete info is here http://www.anarreshealth.ca/blog/workshop-rates-and-policies-pwyw-refund...
What are the rates for Evening, 2-hour Intro Workshops?
$10+HST PLUS
Pay-What-Feels-Right aka Pay What You Can at the end of the workshop.
Suggested payment is $40.
$10 Materials Fee is NON-REFUNDABLE but can be transferred another date with minimum 7 days notice. With less than 7 days full days notice, the entire workshop fee paid is non-refundable and non-transferable. If you can't attend, consider sending someone in your place and let us know before the workshop the name and email of the person who is coming.
How does Pay-What-Feels-Right aka Pay What You Can work?
You will be invited to pay what feels right for our labour, marketing, travel costs and the space rental after the workshop. We will hand out envelopes in case you want to contribute anonymously. If you would like the amount on your receipt, you can prepay an amount with your deposit, or you can come to the cash desk at the back with cash, or your credit or debit card and we will add your PWYW amount to your receipt.
HOW DO I DECIDE WHAT TO PAY?
It's up to you. We want workshops to be available to people with a range of means. Regular DIY workshop prices in Toronto range from $30 to $80 per participant for a two-hour workshop.
Consider:
* Paying what you earn per hour. If you earn $15 per hour, you could pay $30. If you earn $30 per hour, you could pay $60.
* Paying based on your annual income. If your annual income is $19,000, you could pay $19. If your annual income is $42,000, you could pay $42.
* Paying what feels right for what you received. If you recently paid $50 for a semi-private two-hour workshop, you could pay $50.
* That you are paying for the marketing, teacher's labour, the people who helped prepare materials, set up and clean up. Generally, six hours of work go into every two-hour workshop, and eighteen hours of labour go into every 6-hour workshop. Our workshops are all semi-private and include people who are exchanging work rather than paying money. We do not often earn more than minimum wage and we hope to change that!
* That you are receiving products you have made, skills that will last a lifetime, and 50% off essential oils at Anarres forever!
If you are stumped, please pay $40 on top of the $10+HST Materials Fee.
DEPOSIT OF $10+HST IS REQUIRED TO REGISTER: You may pay for my labour upfront here or at the workshop, but please make a minimum deposit of $10+HST to hold your spot. This pays for the materials and costs I need to spend upfront.
WORKSHOPPER CARD, GIFT CERTIFICATES OR TIME CARDS
If you have a Workshopper or Time Card with enough hours, or a Gift Certificate, select Workshopper Card, Gift Certificate or Time Card. Your order will read $0.00.
HOW TO PAY
You are not registered until you pay. To take advantage of the prepaid discount rates you must pay in full at least 7 days in advance. You can pay:
* Immediately, or at any time, through PayPal to AnarresHealth@gmail.com . You do not need a PayPal account.
* In-store by cash, cheque, debit or credit card
* By e-transfer to Tracey AT Anarres Health DOT ca . Please spell Anarres correctly with one N and two RRs. Please make the answer to the secret question your order number as in "Order1234" or email me a screenshot of the secret answer you have set. You have not registered until we have received your payment!
* By cheque or money order mailed to Anarres Apothecary 749 Dovercourt Road Toronto Ontario CANADA M6H 2X1
RECEIPTS
HST 13% is applied when you check out. Donations given at the end of the workshop will not be taxed, and I can give you a receipt if your contribution is not anonymous.
REGISTRATION ORDERS THAT ARE INCOMPLETE OR UNPAID
If we haven't received your payment or your registration order was stopped in checkout, we won't be sure if you are coming. Please DO call or email us if you plan to come but haven't prepaid. Please DO register online, but if you can't please call us and ask us to register you in our system. We'll need your name, address and phone number. If we don't receive your payment 7 days in advance, you will be charged the regular rate on arrival: $225 + HST even if you put in an order a week or more ahead of time. If your payment arrived late, you will need to pay the difference on arrival.
REFUNDS
Workshop payments are only refunded in the rare event that we cancel the workshop. First, we will try to reschedule, and find a time and date that works for you.
TRANSFER TO ANOTHER WORKSHOP DATE
In the unhappy event that you've preregistered for a workshop, but are unable to attend, we are able to transfer your credits minus the Materials Fee when you to give us 7 days notice by email to another date. The $10+HST Materials Fee is NON REFUNDABLE. The remaining credits can be transferred to another date with a minimum of 7 days notice. With less than 7 days full days notice, the entire workshop fee paid is non-refundable and non-transferable. If you can't attend, consider sending someone in your place and let us know before the workshop the name and email of the person who is coming.
TRANSFER TO ANOTHER PERSON
You can transfer your registration at any time to another person who attends the workshop you are registered for. Please let us know their name and email address ahead of time.
GROUP RATES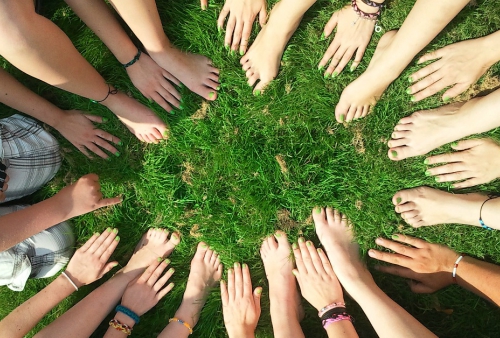 To request a Group Rate or learn more go here http://www.anarreshealth.ca/blog/group-rates-just-got-simpler-0
Date:
2019/12/10 -

10:00am

-

12:00pm