Soap: Shea Butter by Mamaa
100% Natural Shea Soap
In the text box above, choose from:
natural,
mint,
natural heart or
red heart
This handcrafted shea soap is both cleansing and moisturizing. The lather is soft and creamy making this a perfect face and body soap. This gentle cleansing suits all skin types. The scent is from lavender and lemongrass essential oils leaving your skin delicately perfumed with a sweet fresh feeling.
Weight: 130g
Ingredients: Shea butter, olive oil, coconut oil, water, lye, and 100% essential oils if applicable.
Handmade in Canada by Mamaa Trade with fair trade shea butter produced by Kongo Nagbok Nongtaab Shea Butter Production. With the income earned from making shea butter the women are able to take better care of themselves and educate their children.
Good for you, good for the producers, good for the planet!
"Mamaa" means "Fair/Equal"
 
The word "mamaa" means "fair/equal" in the local Napti language of Nabdam District in Northern Ghana where our shea producers and basket weavers live. The logo of Mamaa is inspired by Ghanaian Adinkra symbol "Fawohodie" which stands for "independence, freedom and emancipation". We believe in fair trade and direct links with our trading partners.
We market products from women's cooperatives in Africa and Asia to support entrepreneurial women around the world and give them a better income. At the same time we offer our Canadian customers unique and quality products that bring about positive change.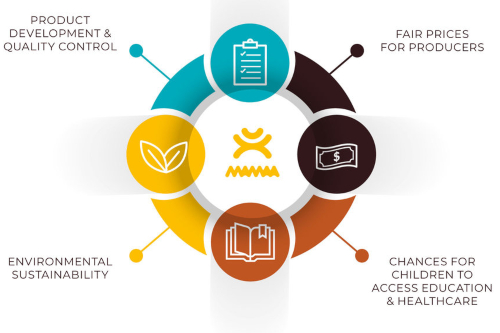 Mamaa Trade was founded in 2018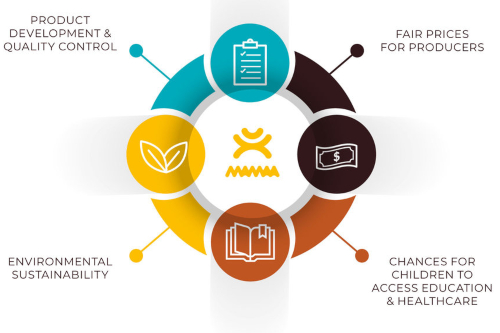 Johanna Helin who has years of experience in development work in international organizations and NGOs. The aim of Mamaa Trade is to market sustainable and quality products from women's cooperatives that Johanna has previously worked with. A big part of our work is to support women to develop their businesses, to improve and check the quality of their products and to ensure that the production methods are environmentally sustainable.
We believe that ethical trading is a sustainable way to secure poor women fair incomes through their work, better opportunities to care for their families and more say in the family and community. We offer the consumers the knowledge that the products they consume are socially and ecologically sustainable and make a difference in the lives of the producers. We guarantee that the prices we pay to the producers are counted in a way that they cover all the expenses of the production and offer at least the local minimum salary for the working hours. In addition, 15% of the profit (after taxes) is directed back to the communities.