Workshop: Cannabis Medicine Making
WHAT: Workshop: Cannabis Medicine Making
WHEN: Choose a Sunday, 10 am to 4 pm
WHERE: Academia Tutoring, 88 Geary Avenue at Dovercourt
Register below.
Includes vegan, halal, kosher and gluten-free lunch
$50 Materials Fee to be paid directly to the instructor
PLUS
$225 + HST Regular
OR
$200 + HST Advance Discount registration (1 week in advance pre-paid)
CANNABIS IS SELF-CARE
MAKE YOUR OWN CANNABIS MEDICINE
Wholistic Cannabis is plant medicine for the mind and body. This full-day workshop will teach you several different methods to make your own popular wellness products with Cannabis!
With legalization, a diverse stream of people is seeking wellness through cannabis. There are so many different products available for folks who are interested in the medicinal benefits of this one plant! ⁠You can infuse your beauty routine, reduce stress, treat chronic pain and inflammation, and get better sleep.⁠ But it's not easy to navigate! ⁠We will focus on how you can unlock the healing potential of this plant and make a number of different medicines at home, in your own kitchen.
This is a "hands-on' workshop, giving you direct experience making many different therapeutic cannabis-infused products. You get to take home samples of everything we make in class and an Intro to Cannabis Booklet with recipes and class notes!
Together we will make:
Cannabutter for use in edibles
Cannabis infusions for internal and external use
Infused Oils that can be used topically for pain and inflammation.
Cannabis Salve
Cannabis infused Creams and Lotions
Tinctures
Cannabis infused Bath Salts and oil
Topics we will cover:
Medicinal properties of Cannabis: The plant & our Endocannabinoid System
Simple and advanced extraction methods using both fresh and dried plant material
Best Cultivars for CBD and/or THC
The Decarboxylation process
How to make 'whole plant' infusions
Carrier oils and botanical ingredients
Entourage Effect
Cannabinoids
Terpenes and Essential Oils
Measuring Dosage
Customizing Cannabis Topicals
You don't need to pay high prices for manufactured cannabis products when you make your own at home. We can create powerful and effective therapeutic wellness products that can be used to help yourself and others. Learn with us and take your cannabis skills to the next level.
Presented by Amanda Breeze, Emerald Temple Living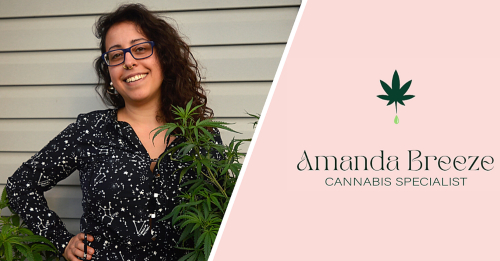 Amanda offers diverse perspectives and knowledge in all areas of the Cannabis Industry with over a decade of experience working with this amazing plant.
Amanda is a certified Cannabis Sommelier through the Trichome Institute Interpening Program. Their program offers greater insight into the quantitative quality assessment of Cannabis flowers, and the ability to interpret cannabis terpenes and determine the potential psychoactive effects of any strain.
Amanda is a Certified Aromatherapist and Lotioncrafter, having completed the Wholistic Aromatherapy Certification Program and Apprenticeship at Anarres Natural Health Apothecary in Toronto. She specializes in Cannabis Topical Formulations and the successful therapeutic applications of terpenes in cannabis medicine and aromatherapy. As a Cannabis formulator, Amanda has a deep understanding of cannabinoids in medicinal infusions and how they work in the body.
Amanda's exceptional ability to assess quality cannabis products comes from a professional working knowledge of the plant and her unique industry experience. She has worked with master growers in British Colombia and Ontario, but most of her experience comes from the legacy farms of Northern California.
I've had the pleasure of learning about the cultivation, processing, and medicinal uses of Cannabis on farms across Humboldt, Trinity Pines, and Mendocino Counties- infamously known as the Emerald Triangle. Working directly with farmers from seed to harvest brings appreciation and respect for the plant and the people who risked their lives for generations to grow this natural and powerful medicine for their communities.
Being able to work directly with these generational legacy and craft farms has offered me access to some of the finest cannabis to innovate and formulate with. What makes my process unique is that I choose very specific strains for their cannabinoid and terpene profiles to create whole-plant infusions. I use a variety of menstruums to achieve the best results for cannabinoid dosages and ratios, then combine them with supportive therapeutic botanicals, medicinal herbs, and pure essential oil blends. I stack the terpenes in both the cannabis and essential oils to strengthen the purpose of every formula.